5-a-day course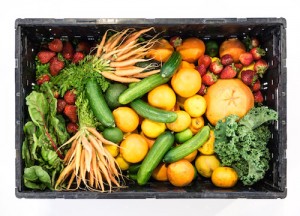 Are you getting your 5-a-day?
This talk, short course and demonstration is aimed at promoting awareness of well-being in ourselves. Come and sample great tasting fruit and veg made before your very eyes as Alan shows you how to put together some great tasting concoctions. According to the British Dietary Association fresh, frozen, dried and canned fruit and vegetables all count. Also, 100% fruit or vegetable juice, pure fruit juice smoothies and pulses count. Remember that potatoes, yam, plantain, and cassava do not count towards your 5-a-day because they are starchy foods. This is the sort of thing we will discuss on the 5-a-day course.
Why do we need 5-a-day?
Given the many health benefits of eating more fruits and vegetables, we should all be trying to meet the government's '5-a-day' target. Yet as a nation we eat less than three portions of fruit and veg a day, with only 15% of adults meeting the target. In children it is even less.
Why aren't we eating enough? Perhaps people are still confused about how many portions they need a day, what counts as a portion, or even what constitutes a fruit or vegetable? This NHS website goes some way to helping with this, giving you tasty examples of how to get your five-a-day.
Why are fruits and vegetables so beneficial? As well as tasting great, fruits and vegetables are incredibly versatile, packed with essential vitamins and minerals and a variety of phytochemicals (naturally occurring plant substances) that are vital for good health.
Many of these nutrients also act as powerful antioxidants, protecting the body from harmful free radicals (found in pollutants) that can cause disease.
Studies have shown that people who eat plenty of fruit and veg have a lower risk of developing many diseases, including high blood pressure, obesity, heart disease and stroke, and some cancers (including mouth, throat, stomach, colon and lung cancers). In fact, it has been estimated that diet is likely to contribute to the development of one-third of all cancers, and that eating more fruits and vegetables is the second most important cancer prevention strategy, after stopping smoking.
How to book a 5-a-day talk?
The 5-a day course can be delivered to groups or individuals at a time to suit you. To discuss your requirements please contact Al now.
Need a different type of experience for your event?

We can come to your event and set-up our range of nutritional smoothie drinks to make your occasion special. Call us on 01403 251733 to discuss your requirements; you may be surprised just how competitive our rates are when compared to others.