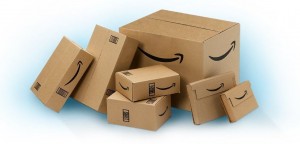 Al Cooke answers the 5 key questions he receives from small business retail owners about Fulfilment by Amazon.
What is fulfilment by Amazon exactly?
Amazon offers a range of services for small business owners looking to  grow or start their retail businesses online via Amazon Marketplace. The services include using their fulfilment resources, customer services and fast delivery options. You can store your products in Amazon's own fulfilment centres and they will pick, wrap and send them out on your behalf.
Why should I use it instead of doing it myself?
There are many benefits to using Fulfilment by Amazon which mainly revolve around taking the hassle out of the process for you,  including:
Gaining access to the Prime customer base which are the most active and loyal Amazon buyers
Being able to offer Amazon customer services
Storage costs depending on size and weight –  you can store in their fulfilment centres
Sell easily across European marketplaces with one seller account
Amazon will handle customer returns
You can leverage Amazon's logistics
What is the process using Amazon to fulfil my sales?
You send your product to Amazon
Amazon store it in their fulfilment centre
FBA helps make your product more visible to buyers and makes them available for Prime deliver
Amazon picks, packs and sends your goods to buyers
Amazon provides the customer services and handles any returns
How much will it cost me?
The pricing of FBA depends on your sales, location and more. It's a pay-as-you go service and there are no minimum requirements, setup charges and subscription fees are only £25 a month. You simply pay for the services you use. More details on pricing can be found on Amazon's website here.
How do I register for Fulfilment by Amazon?
If you are new to Selling on Amazon, you will need to register for an Amazon Merchant Account – you can find instructions here, and add Fulfilment by Amazon during the registration process.
If you are already selling on Amazon, you can add Fulfilment by Amazon to your account by accepting the User Agreement for Fulfilment by Amazon and then following some simple steps to get going.
For more information about Selling on Amazon course or my 121 coaching for small business retailers please contact me.
---